Flowers and their Significance
Flowers are among the most treasured natural gifts. Color, brilliance, and delicacy are rarely seen together in any other natural thing. Flowers, ubiquitous yet rare, can instantly put a smile on anyone's face. They can both flourish in the wild and be tamed to perfection. They can express a number of emotions like 'sorry,' 'thank you,' 'I love you,' 'I miss you,' and much more. Despite their vibrancy and aloofness, flowers are tightly intertwined into the Indian cultural landscape.
Role of Flowers in the Indian Culture and Rituals
There is no beginning or end when one listens to or thinks of Indian culture. It is a circle of heritages and traditions that blend together across regions, faiths, and economies. The culture of the area is strung together like a garland, dispersing its essence and values like a gentle smell borne on the edge of a breeze.
Flowers are placed almost delicately throughout all elements of Indian culture. Flowers carry the weight of being ubiquitous and offering their vibrancy and tranquilly in ceremonies, prayers, birth, death, wedding ceremonies, or medicine. However, their presence is more than simply physical. Floral designs and cultural references to flowers are even carved into stone. Their designs and styles are architectural delights that have withstood the test of time to remain one of the country's most popular choices for construction.
The Festival of Ganesh Chaturthi
Ganesh Chaturthi, also called Vinayak Chaturthi, is celebrated with great zeal and joy on the birthday of Lord Ganesha, the "elephant-headed" deity. Lord Ganesha is renowned for bestowing good fortune, money, and success. Every auspicious ceremony begins with an invocation of his blessings known as Shubh Aarambh. Ganesh Chaturthi is celebrated all around the country and even internationally, during the Hindu month of Bhadra (mid-August-mid September), with the greatest events taking place in Maharashtra. The event lasts 10-12 days, with the final day being Anant Chaturdashi.
Ganesh Chaturthi and Flowers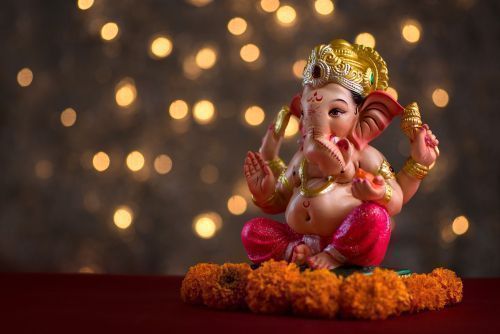 Flowers are essential not just in the festivities of Ganesh Chaturthi but also in all Hindu festivities. Flowers may be used to express devotion and affection to God. The aroma gives the place of worship a cheerful and attractive atmosphere. As a result, good energy is attracted, and a perfect setting for worship is created. During Ganesh Chaturthi, devotees decorate pandals, beautiful and temporary structures to install the idol of Lord Ganesha in their homes, temples and workplaces to welcome the deity. This pandal is adorned with fragrant and gorgeous flowers for the celebration of Ganesh Chaturthi. It becomes the place of worship for the next 10-12 days.
It is believed that Lord Ganesha is most overjoyed when his favourite red blooms are presented to him. Red flowers symbolise Mars and the Moon, and during Ganesh Chaturthi, his idols are decked with these red flowers. But, there are many colourful and vibrant flowers offered to our Bappa. Take a look at the list of flowers that are posthumously offered on the occasion of Ganesh Chaturthi and the reason behind it too.
Hibiscus
This is an evergreen plant that blooms all year. It is one of the most popular plants in Indian gardens. It is also known as Japakusuma in Sanskrit. The solitary, red flower of the Hibiscus variation is commonly dedicated to Lord Ganesha; indeed, Hibiscus is thought to be Lord Ganesha's favourite flower. Therefore, this flower is pervasively used throughout the whole 10 days of the celebration of Ganesh Chaturthi. Hibiscus should be offered for overall prosperity and the eradication of foes.
Marigold
Marigold, also known as genda or chendumalli, is one of Lord Ganesha's favourite flowers. This beautiful blossom indicates happiness and vitality. You must present this orange flower to Bappa since it heals all chronic ailments, and worshippers crave excellent health. It is also used to adorn temples during special events.
Parijat
Parijatha or pavizhamalli, often known as the queen of the midnight or coral jasmine, are nocturnal flowers that lose their petals during the day. This is among the most important plants in Indian mythology and history, including allusions in the Mahabharata. The plant is a tiny tree or a tall shrub. The petals of the flowers are white, with an orange foundation. Flowers that resemble jasmine are extremely fragrant. Flowers blossom in the morning hours and fall in clusters on the ground, producing a magnificent carpet. If this is dedicated to Lord Ganesha during Ganesh Chaturthi with fervent prayers, the worshipper's children are certain to succeed.
Yellow Chrysanthemums
Yellow Chrysanthemums are among the most lovely flowers. It is an evergreen shrub with a pleasant aroma. This floral sacrifice to Lord Ganesha, made in complete confidence and faith, eliminates evil eyes, the negative effects of black magic, and difficulties from unfavourable forces.
Downy Jasmine
The Downy Jasmine, also known as Nithya mulai, is an evergreen flower that, when presented in trust to Lord Ganesha, can successfully end long-standing litigations and family separations. It is a lovely white flower that is easy to find.
Champa
It is a medium-sized tree with long leaves with wavy borders similar to Mango leaves. The blossoms are golden, fragrant, and velvety. It grows along avenues, in parks, and in complexes. The tree blossoms during the monsoon season, and the blossoms may be found in any Indian flower market. It is commonly utilised in temples for Devis. This flower is said to have appealed to Lord Krishna. When this flower is presented to Lord Ganesha, it bestows blessings on the devotee for getting married to the person of their choosing.
Pomegranate Flower
This beautiful pomegranate is planted for its blossoms rather than its fruits in the garden. It grows to be rather tall and bushy, with double red blooms on upright branches. These blooms are available during the rainy season and are presented during Ganesh Chaturthi in substitution for Hibiscus. Lord Ganesha embraces pomegranate leaves and fruits and bestows wealth and well-being.
Conclusion
The connection between Ganesh Chaturthi and flowers is special, like every other Hindu festival. Flowers are the pathway to praying and offering to deities in Indian Culture. FlowersnFruits offers a wide range of flowers with same-day delivery services across the country and helps you offer the flower of your choice to Lord Ganesha.
Suggested Reads :