Sometimes we get so involved in work and personal affairs that other important things in our lives skip our minds. It's completely alright, and it happens to all of us. But we are here to remind you that Raksha Bandhan, the most awaited festival of siblinghood, is just around the corner, and your sister is expecting a special gift from you! The rakhi tying ritual celebrates the bond of protection and care. So, when the sister ties the sacred thread of rakhi on her brother's wrist, he also shows his affection by giving her a thoughtful gift. If you haven't decided what would be that special gift, you don't need to freak out. It's still not too late. We have some amazing Last Minute Rakhi Gift Ideas to impress your dearest sister. Let's check them out!
A Lovely Dress
The best way to impress any girl would be to buy her a perfect dress. It is better to know her fashion choices before selecting the dress. If you already know, that's ideal, but if you don't, consider asking her pal for assistance in selecting the most beautiful clothing your sister would like. You have a lead to follow if she made any particular comments regarding her preferences. Even if you're far away from your loved ones this Raksha Bandhan, you may still send her a nice surprise by sending her the dress online.
Jewelry
A girl can never have too many pendants or earrings. Giving a set of earrings, pendants, or rings would also be a great Last Minute Rakhi Gift Idea for sisters. There are a plethora of jewelry options available both online and offline to select from. You can easily pick out any beautiful designer jewelry, and your sister would be amazed to receive such a precious gift from her brother. Not everything can be defined in words, especially when it comes to expressing your love towards your siblings. It may feel a bit too cheesy. This is why gifting is a great way to show love, admiration and care toward another person. 
Flowers and Chocolates
Flowers and chocolates are again an excellent Last Minute Rakhi Gift Idea for sisters. Who doesn't love vibrant flowers and scrumptious chocolates! Nowadays, you can easily find a flower bouquet studded with delicious chocolates to make it more tempting. At FlowersnFruits, you will find an exciting range of flowers along with Raksha Bandhan gifts for your sister. You can choose her favourites from a wide variety of options. Apart from flowers and chocolates, you can also explore other flower combos with mithais, cakes, dry fruits, and many more. We deliver everywhere in India, so you can send flowers online to your sister in any city and bring a bright smile to her face. 
A Photo Collage
Even though most of us have started using smartphones that store our photos and memories, the importance of photo frames has still not diminished. Photo frames can be touched, and we can press them to our hearts when we reminisce the sweet memories shared with the person. So, a photo collage containing many photos from childhood to the growing years would be a great Last Minute Rakhi Gift Idea. It can require some time to collect all the pictures and find a nice frame to preserve them, but it will surely be worth the love and affection you will see in your sister's eyes. So, what are you waiting for? Start your collecting the photos now!
A Stylish Handbag
Handbags are both items of necessity and style. This is why they are always welcomed as a gift. So, go shopping and get a perfect handbag for your sister. You will get to select from a huge variety of tote bags, slings, shoulder bags, and many more. You need to know what your sister likes to carry with her attire. If she is into comfortable bags that can also carry a lot of stuff, you can go for a classic leather tote bag, and if she likes the cute little ones, you can select a stylish cross-body purse for your sister.
Rakhi Greeting Card
Pairing your gift with a greeting card would be a thoughtful Last Minute Rakhi Gift Idea. Greeting cards are a traditional way to express love and emotions. So, nothing could be better than a beautiful greeting card expressing your care and gratitude in meaningful words. If you want to add something more special and intimate to your rakhi gift, a greeting card could be the best choice. And expressing love doesn't require fancy gifts and big gestures, so if you don't have any time to buy something special for your sister on this Raksha Bandhan, you can always express your emotions with a greeting card. 
A Basket of Love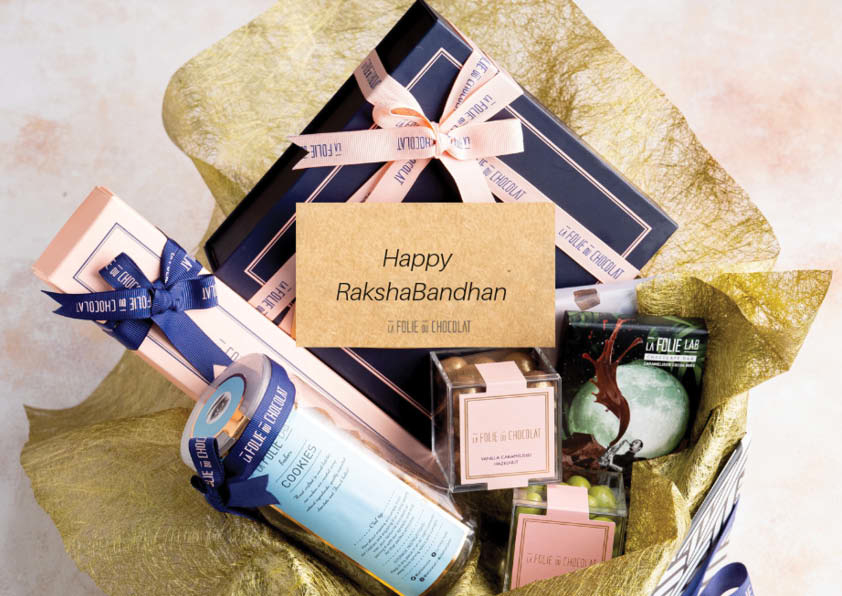 Why whack your brain for that one special thing for your sister when you can gift her many thoughtful gifts in one basket! Think of all the small little things your sister likes like scented tealights, earphones, a small wallet, skin care products, comfy socks, a neck pillow, a cushion, anything that can make her feel more comfortable, and happy. All this pampering will not go unnoticed, and these self-care gifts would make her Raksha Bandhan unforgettable.
Conclusion
Raksha Bandhan is the most awaited festival for the siblings. Most of the time, we are invested in our jobs, friends, and love interests so much that we forget the people closest to us. The rakhi celebration teaches us to feel grateful for the most amazing bond we share with our siblings. And gifting things that our loved ones like is the best way to show them how much they mean to us. So, if you haven't bought anything for your sister yet, our list of Last Minute Rakhi Gift Ideas will help you get the perfect gift for her.
Suggested Reads :